Now Featuring CADPage Support!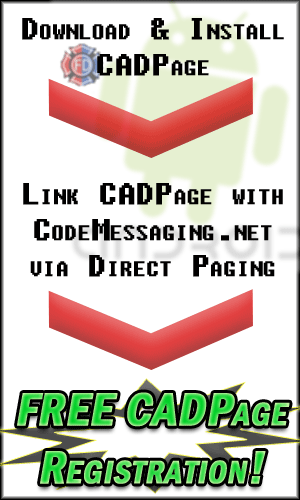 BLAZING FAST Direct Android Messaging!

No more SMS fees from your mobile provider! Get direct messages straight to Android faster and capable of containing much more than 160 limit imposed by SMS!




Free CADPage subscription!

Never have to pay for the full version of CADPage. All CodeMessaging.net clients get a complimentary subscription at the top-tier of support from CADPage.




Android Tablet Support!

No longer be limited to just your Android phone. Send and display dispatches on your Android tablet for easy viewing on the apparatus, in the firehouse, or at home.




Response Check Integration!

Simply press a button after receiving a dispatch and your status is instantly updated on CodeMessaging.net's Response Check screen. No phone numbers to dial, no messages to send! Pure and simple!
That's right! CodeMessaging.net is now able to offer ALL CodeMessaging.net users a free version of CADPage for their Android devices. Simply access the Android marketplace and search on CADPage. Once installed, access the settings menu and select "Direct Paging Vendors" and register with CodeMessaging.net. The process will help you find your profile in CodeMessaging.net and link it with your CADPage application. This will also automatically register your CADPage installation as a full version.
CADPage Information - What is it?
CADPage is a mobile device application for Android OS. CADPage processes incoming dispatch data and not only alerts you with a loud alarm, but will map the location of the call and show you a route from your location to the address!
To inquire about getting started with a full CAD/Dispatch account in CodeMessaging.net and allow your users to harness the power of CADPage, please Contact Us!.
Announcements
Recent Updates
Recent/Live CAD dispatch text messages
Message Center: Over 15 million messages have been sent!