Included free with any dispatch account!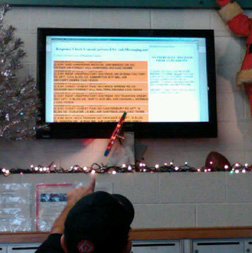 If you need to know what members are responding to the station after an alarm, Response Check is for you! As a full-featured responder tracking system, Response Check allows you and your department to answer the question "Who Is Responding?" within moments after an emergency dispatch.
Response Check provides the unique ability to monitor individual responders' status in the minutes following an alarm. Used by departments across the nation, from wildland fire crews to neighborhood fire and ems stations, Response Check shows who is responding to a dispatch, what their qualifications are, where they are coming from, and if they are going to the scene. This type of feedback can be invaluable to other responders in making decisions how to respond.
Mobile App Interface
As mobile applications become increasingly important in day-to-day operations, CodeMessaging.net has ensured it will work with applications for the Android and iOS operating systems. Currently, there are several mobile applications available for users to download, install, and configure with CodeMessaging.net. These applications allow dispatches to be received and the location mapped quickly right on the mobile device (phone or tablet). Additionally, the user can update their Response Check status with a press of a button on the screen. No messages to send or numbers to dial!
Cost
Response Check comes included with any CodeMessaging.net account that has a CAD Link/Connection. Upon receiving a dispatch text to your phone or mobile device, you have the ability to quickly send a reply message back. There are no phone numbers to dial and its up to you if you want to include any additional message with your reply. Within moments, your name, qualifications, and any additional message you included will appear on every screen displaying the Response Check Console.
Installation Requirements
The Response Check Console can be displayed from any computer with an internet connection. It is an instantly-refreshing screen that will show your dispatch information as well as the individuals responding to that dispatch. Its your decision to display the console at work, home, or on a large monitor in the apparatus bay. There are no limits to how many you can display.
Response Check is a full-featured and highly customizable solution. Response Check does not have to be used with a CAD Connection, although it is recommended, and it also offers the ability for members to pre-set their availability. This allows responders to show themselves as responding/available-to-respond in advance of the alarm. In addition, Response Check can be used for instant feedback of department announcements by sending an alert out to the membership and monitoring their responses in real-time.
If your organization responds to emergency alarms of any kind, Response Check can help your members make better and more informed staffing, running order, and/or assignment notifications!
Announcements
Recent Updates
Recent/Live CAD dispatch text messages
Message Center: Over 15 million messages have been sent!